Breitling Reference Numbers Breitling b01
How to read a Breitling reference number
You are here: Home page ► Watches ► Breitling reference numbers
Try-it-yourself
Information about your watch will appear here.
Information about your watch:
Explanation
Breitling uses reference numbers to uniquely identify its models. Every model inside a production series gets the same reference number, meaning that its design, material, and movement type are exactly the same (aside from the dial color, sometime the hands, and of course the band).
The serial number, in addition to the reference number, ensures that no 2 watches will bear the same numbers, even if they are physically identical.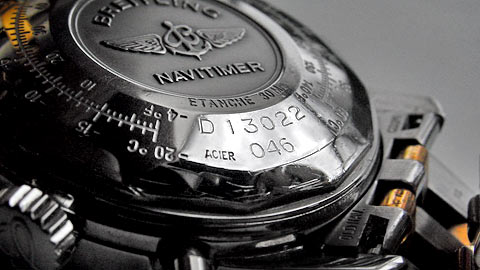 Reference and serial numbers on the case-back of a Breitling Navitimer
Please note that over the years, Breitling had many different ways of choosing reference numbers. The memo displayed below applies to modern watches (from 1991 onwards), and may not be perfectly accurate.
Scheme (since 1991)
Examples of Breitling 6-digit reference numbers:
A

68

3

62

(which identifies the non-SuperQuartz COSC-certified B-1)

A

B01

10

(which identifies the Chronomat 44 with in-house movement)
First digit

Case material(s):

Breitling material codes

| Letter | Material |
| --- | --- |
| A | stainless steel |
| B | SS with 18k yellow gold rider tabs |
| C | SS with 18k rose gold bezel |
| D | SS with 18k yellow gold bezel |
| E | titanium |
| F | titanium with 18k yellow gold rider tabs) |
| H | solid rose gold |
| J | solid white gold |
| K | solid yellow gold |
| L | platinum |
| M | "black" steel |
| P | stainless steel with platinum bezel |
| R | solid red gold |
| V | "black" titanium |
| W | stainless steel with tungsten carbide bezel |
| X | Breitlight® |

2nd+3rd digits

Caliber number (50 and above means a quartz movement).
Note that for the new in-house movements, a B is added right before the caliber number (e.g. B01). Otherwise, the movement base is sourced from an external supplier, and often modified to improve the chronometric performances or appearance, or add a complication. (The table below is heavily based on «Buffmen»'s list.)

Breitling movements bases
Non-manufacture caliber number
Base movement (and added complications, if applicable)
10
ETA 2892A2
11
Lemania 1873
12
Lemania 1873, with a 24-hour cycle
13
ETA 7750 Valjoux
14
ETA 2892A2, with a date/12-hour chronograph module; or ETA 2897
15
ETA 2892A2, with a GMT/day-night/calendar module
17
ETA 2824 / 2824-2
18
ETA 2892A2, with a 12-hour chronograph/moonphase/perpetual calendar module
19
ETA 2892A2, with a 12-hour chronograph/moonphase/4-year calendar module
20
ETA 7750 Valjoux, with second time zone complication
21
ETA 7751 Valjoux
22
ETA 2892A2, with flyback 12-hour chronograph module and a 24-hour cycle
23
ETA 7753 Valjoux
24
ETA 7754 Valjoux
26
ETA 2892A2, with a chronograph module (?)
27
ETA 2892A2, with a date/chronograph module with central minutes-seconds and combined minutes-seconds subdial
30
ETA 2892A2, with a date/12-hour chronograph module
32
ETA 2892A2, with GMT complication
33
ETA 2892A2, with 3-hour chronograph/date subdial module
34
Frédéric Piguet 1186
35
ETA 2892A2 (with a 3-hour flyback chronograph module
36
ETA 2892A2 (with a 10-minute timer, 3-hour chronograph module
37
ETA 2895-2
38
ETA 2892A2, with a 12-hour chronograph/4-year calendar module
39
ETA 2892A2, with a 24-hour indication/combined minutes-hours 12-hour chronograph module
40
ETA 2892A2, with a 3-hour chronograph module, no date
41
ETA 2892A2, with a 12-hour chronograph module
42
ETA 2892A2, with a 3-hour chronograph module
43
ETA 7758 Valjoux
44
ETA 2892A2, with a big date/12-hour chronograph module
45
ETA 2834-2
47
ETA 2892A2, with a date/GMT/6-hour chronograph module
48
ETA 7763 Valjoux
49
ETA 2896
51
< eofouiex. omega speedmaster uathoibríochtd>Miyota Y652
52
ETA 956.112
53
ETA 251.262
55
Piguet MecaQuartz 1270
56
ETA 988.332
57
ETA 955.412
58
ETA 955.112
59
Miyota C3510
61
Ronda 732
64
ETA 955.612
65
ETA 998.332
67
ETA 956.612
68
ETA E20.331
69
Piguet MecaQuartz 1271
72
ETA Thermoline 956.152
73
ETA Thermoline 251.232
74
ETA Thermoline 955.652
75
ETA Thermoline 988.352
76
ETA Thermoline 988.352
77
ETA Thermoline 956.652
78
ETA Thermoline E20.341

4th digit

In the case of a non–in-house movement: 0 means that it is not COSC-certified; 3 means that it is. (But there are a few exceptions; for instance, a model of non–COSC-certified Astromat has a 4; a model of non-COSC Emergency has a 1.)

5th+6th digits

Short model number


cartier mens watches
en lang sohne klokker
omega constellation price
Cartier klokker
Breitling Chronomat 44 B01 gummi/stål - 2012
Telefonnummer kan av säkerhetsskäl inte skrivas ut
Säljer en Breitling Chronomat B01 44 mm som knappt är använd. Har haft den som andra klocka men har kommit på att jag knappt använder den. Vill göra plats för något nytt därav lägger jag ut den för försäljning.
Det sitter ett gummiarmband på klockan just nu men det följer även med ett i stort sett nytt stålarmband (jag har inte använt det alls).

Breitling Chronomat 44 i stål.
Ref.nr: AB011012-F546-375A
Mått: 44 mm
Årtal: 2012
Skick: I stort sett nyskick sånär som på några hairliens på spännet (oundvikligt).

Jag är andra ägaren och det jag fick med vid köp är enligt bild. Klockan håller tiden som den ska och den funkar precis som den ska. Säljes som sagt enbart för jag är sugen på något nytt.

Pris: 40.000 Kr

Byte av intresse: Rolex GMT master 2 (pepsi eller batman) med pengar upp från min sida.

Har ni någon fråga eller fundering så är det bara att höra av sig. Börjar med mail kontakt då jag jobbar mycket och inte alltid har tid att svara i telefon.
Breitling Chronomat 44
Die Breitling Chronomat 44 präsentiert sich in großer Vielfalt

Der Breitling Chronomat 44 gehört zu den begehrtesten Modellen aus der Schweizer Uhrenmanufaktur. Als Pilotenuhr der Extraklasse besticht sie mit ihrem funktionalen Design und höchst präziser Technik. Ihr robustes Gehäuse ist bis zu 50 bar wasserdicht. Damit kann sich dieser außergewöhnliche Zeitmesser ohne jeden Zweifel auch mit den anspruchsvollsten Taucheruhren der Luxusklasse vergleichen.

Besondere Performance

Mit dem Breitling Chronomat 44 gelang der Traditionswerkstatt aus Grenchen in der Schweiz die Lancierung eines echten Klassikers. Konzipiert und gebaut wurden die ersten Varianten bereits in den 1940ger Jahren. Schon in ihrem Namen zeigt die bahnbrechende Uhr, welche wichtigen Funktionen sie vollbringen kann. Neben der Zeitanzeige bot das Instrument einen innovativen Rechenschieber auf seiner Lünette. Als Verbindung aus Uhr, "Chronograph", und Recheninstrument, "Mathematik", erhielt die so geschaffene Uhr den Namen Chronomat. Mit einem Gehäusedurchmesser von 44 Millimetern reiht sich der Breitling Chronomat 44 in die Reihe der mittelgroßen Modelle der Kollektion ein. Am Handgelenk eines Profis oder Hobbysportlers ist das Instrument auf jeden Fall ein Statement.

Im Innern der Uhr arbeitet das Manufakturkaliber Breitling B01. Es wurde im Jahr 2009 der Öffentlichkeit vorgestellt. Für das Unternehmen war das ein großer Durchbruch. Das Chronographenwerk Breitling B01 war das erste Werk, das vollständig in den eigenen Werkstätten konzipiert und montiert wurde. Deshalb trägt das COSC-zertifizierte Werk zu Recht die Bezeichnung Manufakturkaliber.

Zahlreiche Versionen

In seinem Design gehört der Breitling Chronomat 44 zu den vielfältigsten Uhren von Breitling. Bestechend sind die Variationen der Zifferblätter. Hier kann sich der Träger zwischen Farben Braun, Silber, Schwarz, Blau oder Weiß entscheiden. Im Kontrast zu den starken Farben der Zifferblätter präsentieren sich in einigen Variationen der Uhr Zeiger und Indizes. Andere Varianten überzeugen monochromatisch mit leuchtenden Zeigern und Indizes. Aus Edelstahl gefertigte Zeitmesser der Modellreihe wirken technisch präzise. Ein luxuriöses Aussehen verleihen der Uhr in anderen Ausführungen vier goldene Indexe auf der Lünette. Noch feiner erscheint das kühle Instrument mit einer vollständig goldenen Lünette. Mit der vollkommen aus Gold gefertigten Version zieht kompletter Luxus in die Reihen der Pilotenuhren von Breitling ein.